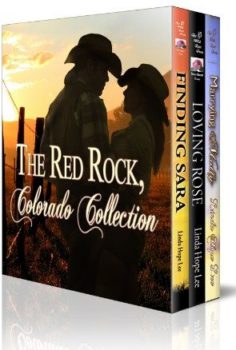 The Red Rock, Colorado Collection
All three complete digital books included.
FINDING SARA – Book One (originally published November 2008 in trade paperback and eBook)
Coerced by a domineering father into marrying a man she does not love prompts Long Island, New York heiress Sara Carleton to run away and board a train heading to the West Coast. On an unscheduled stop in Red Rock, Colorado, fate intervenes when she is mugged in a dark alley. Rancher Jackson Phillips doesn't mind helping the attractive mugging victim he and his sister rescued at the train station, but having her come to his ranch to recuperate turns out to be much more than he bargained for.
LOVING ROSE – Book Two (originally published October 2011 in trade paperback and eBook)
Harboring a secret she dared not share, Rose Phillips ended her relationship with Dr. Mike Mahoney two years ago. When a tragic accident places her under his professional care, she realizes her feelings for him are still very much alive. Torn between wanting to bare her soul and fearing he'll reject her after he learns her secret, Rose struggles to resolve her dilemma.
Why Rose ended their relationship has always puzzled Mike. He's never stopped loving her. Now that she's back in his life, he wants more than anything to pick up where they left off. Rose appears receptive, but because of her actions trust is difficult. Dare he risk a second broken heart?
MARRYING MOLLY – Book Three (originally published April 2013 in eBook and July 2013 in trade paperback)
After a two-year absence, widow Molly Henson and her young daughter, Karli, return to Red Rock, Colorado, where they lived when Molly's husband was alive. New love is the farthest thing from Molly's mind—until she meets Steve Roper.
Steve hasn't come to Red Rock looking for love. He's there on business and hoping to find answers related to his ex-wife's sudden disappearance. Meeting Molly makes him all the more eager to move on with his life.
Molly soon realizes she harbors a secret about Steve's ex-wife. Confiding in Steve may end their relationship. How strong is their love, and dare she take the risk?