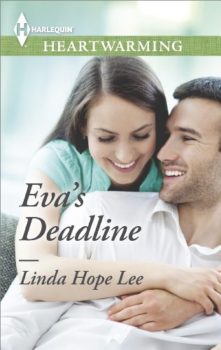 Eva's Deadline
Harlequin Heartwarming 2014     Ebook and Print     Contemporary Romance
A one-year sentence…or life?
Eva Sinclair
finally had it all: the Seattle sea-view condo, the little
blue sports car and the assistant editorship at the
city's hottest magazine. Everything she'd fought
for since the day she walked out on her father and The Bay
City Beacon, his beloved small-town newspaper….
With
one call from Mark Townson, her father's
protégé, it was all gone. Her father. Her
career. Her independence. And, quite possibly, her mind.
Because fulfilling her father's final wishes meant
meeting a one-year deadline as Mark's coeditor at The
Beacon. That's what they call an impossible deadline.
Especially when the sparks begin to fly.